Elba Man Wins $10,000 Playing Precious Metals Super Ticket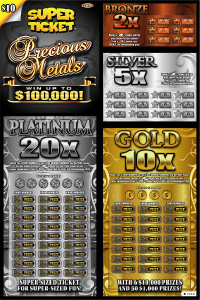 Mark Dugan of Elba won $10,000 playing the $10 Scratch game Precious Metals Super Ticket from the Nebraska Lottery.
Dugan purchased his winning Precious Metals ticket at Pump & Pantry, 514 Second Street in St. Paul. Scratching the ticket, he revealed winning symbols in every game on the ticket for a total prize of $10,000.
There are six $10,000 prizes to win in Precious Metals. Dugan is the second person to claim a top prize to date in the game.
Around the size of a sheet of paper, the $10 Precious Metals Super Ticket is the Nebraska Lottery's largest Scratch game. It offers players the chance to win over $4 million in prizes from $10 to $100,000. The odds of winning $10,000 playing Precious Metals are 1 in 100,500, while the overall odds of winning any prize are 1 in 3.59.
---
Published on 09/08/2016