2023 Annual Report Available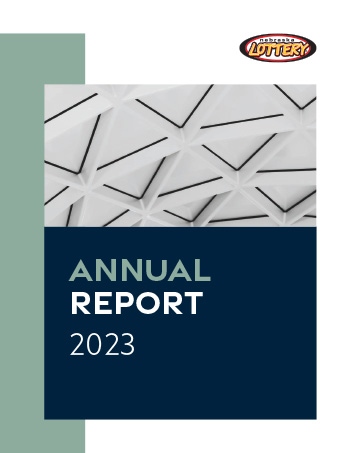 By November 1 of each year, the Nebraska Lottery is required by law to deliver its written annual report to the Governor and the Legislature. The report is a public record.
The 2023 Annual Report and Resource Guide (for the fiscal year that began on July 1, 2022, and ended on June 30, 2023) contains several notable highlights.
Operations
The Nebraska Lottery celebrated its 30th Anniversary with special games and promotions. The Lottery also received Level 2 certification of the World Lottery Association Responsible Gaming Framework.
Product Developments
The Double Play Powerball add-on was launched during the fiscal year, and enhancements to the Nebraska Pick 5 game were developed. Partnerships with trusted brands and continuing research resulted in successful Scratch games.
Strong Sales
Sales of all Nebraska Lottery games (Scratch and Lotto) for the fiscal year totaled $220.1 million.
Record Beneficiary Fund Contributions
Proceeds transferred to the beneficiary funds during the fiscal year were $55.8 million—a new record for lottery proceeds transferred during the fiscal year.
Beyond these highlights, the 2023 Annual Report and Resource Guide contains information about general operations and major winners claimed at Nebraska Lottery claim centers.
Click here to view the Nebraska Lottery 2023 Annual Report and Resource Guide (PDF, 42 pages)
---
Published on 10/25/2023