2020 Sensational Seasons Social Media Giveaway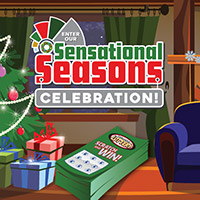 Important Dates
Promotion starts: 10/22/20
Promotion ends: 12/15/20
Drawings: 10/28, 11/18, 12/16
Win prizes in October, November, and December with the Sensational Seasons Giveaway.
Between October 22 and December 15, players can register on the Nebraska Lottery Facebook page or use the entry form on the front page of nelottery.com for a chance to be a virtual contestant in a Facebook Live broadcast. Each entry period begins at 9:00 a.m. CT on the start date, and ends at 11:59 p.m. CT on the end date.
Four Spin to Win contestants will be drawn for each broadcast for a total of 12 contestants that will win $100, $200, or $300 in Scratch tickets.
Entry Period
Drawing Date
Live Broadcast
October 22 – 27, 2020
October 28, 2020
October 29, 2020
November 12

–

17, 2020
November 18, 2020
November 19, 2020
December 10 – 15, 2020
December 16, 2020
December 17, 2020
There will be a Facebook Live broadcast on the Lottery's Facebook page at noon CT on October 29, November 19, and December 17. During the broadcasts, Lottery staff will spin a wheel to determine the prizes for the contestants.
Entries from prior drawings will not be retained, so make sure to enter during each entry period for a chance to win.
In addition to the Spin to Win prizes, four trivia questions will be asked during each Facebook Live broadcast. Players who comment with the correct trivia answer will be entered in a drawing for $50 in Scratch tickets or Lotto coupons. A player may only win one trivia question prize and one Spin to Win prize per broadcast.
No advance entry is required to win the trivia prizes – just watch and comment during the broadcast. Trivia winners will be entered into a second drawing for a chance to win a retro hand-held game unit. One game unit will be given away during each broadcast.
---
Published on 10/14/2020