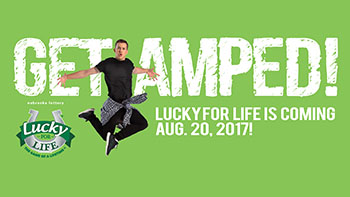 Starting August 20, Nebraska Lottery players will be able to play Lucky for Life, a multi-state Lotto game offered by 24 lotteries across the United States.
Lucky for Life is a $2 Lotto game with a top prize of $1,000 a day for life. Tickets will go on sale at retailers across Nebraska on August 20.
"We are excited to add Lucky for Life to our product lineup," said Brian Rockey, Nebraska Lottery Director. "The prizes are unique and contrast well with our existing Lotto games. We think our players will appreciate the opportunity to win a prize that will last their lifetime. As with all Nebraska Lottery games, a portion of every ticket sold goes to support good causes across Nebraska."
Proceeds from the sale of Lottery tickets benefit the environment, education, the Nebraska State Fair, and compulsive gamblers assistance. Over $648 million has been raised for the Nebraska Lottery's beneficiary funds since the Lottery began in 1993.
Each Lucky for Life play costs $2. Players select five white ball numbers from 1 to 48, and one yellow "lucky" ball number from 1 to 18 for one play. To win the $1,000 a day for life top prize, players must match all six winning numbers. A second prize of $25,000 a year for life can be won by matching all five white ball numbers. Other cash prizes range from $5,000 to $3. More information is available at the official Lucky for Life website, LuckyforLife.us.
Players will be able to take advantage of some special offers for the Nebraska launch of Lucky for Life. Between August 13 and August 19, $2 Lucky for Life coupons will randomly print with Powerball® ticket purchases across the state. Lottery retailers in the path of the August 21 solar eclipse will have free Lucky for Life glasses available that players can use to view the eclipse safely. And members of the Lottery's MVP Club at nelottery.com will receive a $2 Lucky for Life eCoupon to print and redeem after the game launches.
The odds of winning the $1,000 a day for life playing Lucky for Life are 1 in 30,821,472, while the overall odds of winning any prize are 1 in 7.8. "For Life" prizes can be paid as an annuity for the length of a winner's natural life, or as a lump sum payment. A minimum of 20 years' worth of payments is guaranteed with the annuity option.
Lucky for Life drawings are held every Monday and Thursday night at 9:38 p.m. (CT). Winning numbers will be available at the Nebraska Lottery website, nelottery.com, and on the Nebraska Lottery Player's Hotline at 800-224-LUCK (402-471-6139 in Lincoln).
Lucky for Life Prize Chart
| | | |
| --- | --- | --- |
| Get | Prize | Odds |
| 5 + LB | $1,000 a Day for Life* | 1:30,821,472 |
| 5 | $25,000 a Year for Life** | 1:1,813,028 |
| 4 + LB | $5,000 | 1:143,356 |
| 4 | $200 | 1:8,433 |
| 3 + LB | $150 | 1:3,413 |
| 3 | $20 | 1:201 |
| 2 + LB | $25 | 1:250 |
| 2 | $3 | 1:15 |
| 1 + LB | $6 | 1:50 |
| LB | $4 | 1:32 |
* The top prize will be paid weekly ($7,000/wk for life) or in one lump sum payment if the cash option is chosen. If there are more than 14 winners of the top prize, they are required to equally split one cash payment.
** The second prize of $25,000 per year for life will be paid yearly or in a lump sum payment if the cash option is chosen. If there are more than 20 winners of the second prize, they are required to equally split a lump sum cash payment.
The top three prize amounts may be split if there are multiple winners in accordance with the official game rules. In some cases, these prizes may be paid on a parimutuel basis and will be lower than these published prize levels.