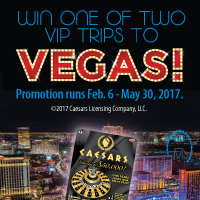 Win a VIP trip for two to Las Vegas in the Caesars Second-Chance Promotion.
Through May 30, enter a non-winning $5 Caesars Scratch ticket online at nelottery.com for one contest entry. There will be two winners for this promotion with two separate drawings - one winner per drawing.
| | | |
| --- | --- | --- |
| Ryan Urbanec of Lincoln | February 6 - April 3, 2017 | April 4, 2017 |
| Misty Beltran of Lincoln | April 4 - May 30, 2017 | May 31, 2017 |
Tickets may only be entered once in the contest. Tickets entered for the first drawing will not be eligible for the second drawing.
Prizes:
The prize for each winner is as follows:
Grand Prize – A Caesars VIP trip package for two (2) to Las Vegas, including the federal and state withholding taxes and cash for a prize value of $8,000: trip $3,848; cash $1,752; federal withholding $2,000; and state withholding $400.
The VIP trip package includes air transportation, hotel accommodations, VIP Access Passes, and more. See the contest rules for complete details on the VIP trip prize.
How to Enter:
Submit the ticket serial number and box code from a non-winning $5 Caesars Scratch ticket using your MVP Club membership at nelottery.com for a single entry. Tickets may only be entered once, but players may enter as often as they like.
The actual tickets from which numbers are submitted will be required for contest prize verification, and should be retained until the contest has ended and prizes have been awarded.
Winners will be contacted by a Nebraska Lottery representative following the drawing.
To enter online, log in to the MVP Club then click the "Contests" button.
If you are not an MVP Club member, click here to join the MVP Club.
MVP Club members are responsible for updating their profile and contact information to make sure it is current. Incomplete or inaccurate information may lead to direct forfeiture of any prize an MVP Club member may win. The Nebraska Lottery and its staff are not responsible for going to extra lengths to find an MVP Club member that has provided incorrect or incomplete member data. To update your profile, click here.
Click here for complete contest rules.
® 2017 Caesars Licensing Company, LLC.