Omaha Woman Wins $22,000 Playing 2by2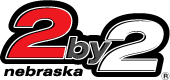 Barbara Vos of Omaha won $22,000 playing 2by2 from the Nebraska Lottery.
Vos purchased her winning ticket at Bag 'N Save, 3003 North 108th Street in Omaha. The ticket contained the winning Red ball numbers (10, 25) and White ball numbers (12, 23) from the May 7 drawing for $22,000.
Two hundred and thirty-five Nebraska Lottery players have won the 2by2 top prize to date. The odds of winning the top prize are 1 in 105,625. The overall odds of winning any prize in 2by2, which is also offered in Kansas and North Dakota, are 1 in 3.59.
---
Published on 05/16/2016