Wayne Woman Wins $35,000 Playing UNO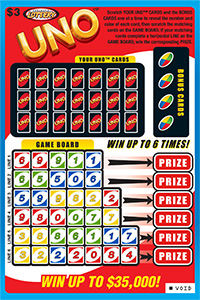 Celeste Seaton of Wayne won $35,000 playing the $3 Scratch game UNO from the Nebraska Lottery.
Seaton purchased her winning UNO ticket at Select Mart, 800 Dakota Avenue in South Sioux City. Scratching the ticket, she revealed matching cards in a line on the ticket for a corresponding prize of $35,000.
There are three $35,000 top prizes in UNO. Seaton is the second player to claim a top prize in the game.
While claiming her prize on April 14, Seaton told Nebraska Lottery officials that she was "shocked" to win the top prize. "I just kept looking at the ticket over and over," said Seaton. "Then I realized this is real." She plans to purchase a new car using her winnings.
Based on the popular card game of the same name, the $3 UNO Scratch game offers players the chance to win $936,100 in cash prizes from $3 to $35,000. The odds of winning the top prize in UNO are 1 in 160,000, while the overall odds of winning any prize are 1 in 3.69.
---
Published on 04/20/2016