Omaha Woman Wins $12,000 Playing Winnerscape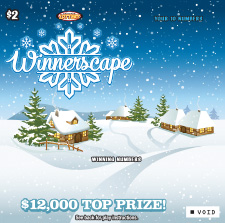 Lorraine Danoff of Omaha won $12,000 playing the $2 Scratch game Winnerscape from the Nebraska Lottery.
Danoff purchased her winning Winnerscape ticket at Dinah Mart, 2609 Chandler Road in Bellevue. Scratching the ticket, she revealed matching numbers for a corresponding prize of $12,000.
There were three $12,000 top prizes available in Winnerscape. Danoff was the third person to claim a top prize in the game.
Winnerscape was a $2 Scratch game from the Nebraska Lottery that offered players the chance to win $468,650 in cash prizes from $2 to $12,000. The odds of winning the top prize in Winnerscape were 1 in 120,000, while the overall odds of winning any prize were 1 in 3.42.
---
Published on 04/14/2016