North Platte Woman Wins $5,000 Playing 2X Fireball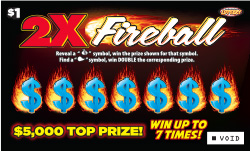 Shelbee Gibbs of North Platte won $5,000 playing the $1 Scratch game 2X Fireball from the Nebraska Lottery.
Gibbs purchased her winning 2X Fireball ticket at Smoker Friendly, 825 South Jeffers Street in North Platte. Scratching the ticket, she revealed one winning "MONEY BAG" symbol for a corresponding prize of $5,000.
There were three $5,000 top prizes available in 2X Fireball. Gibbs was the third person to claim a top prize in the game.
2X Fireball was a $1 Scratch game that offered players the chance to win $400,800 in cash prizes from $1 to $5,000. The odds of winning the top prize in 2X Fireball were 1 in 240,000, while the overall odds of winning any prize are 1 in 3.78.
---
Published on 03/09/2016