Bellevue Man Wins $22,000 Playing 2by2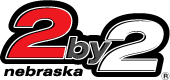 Roger Wright of Bellevue won $22,000 playing 2by2 from the Nebraska Lottery.
Wright purchased his winning ticket at Select Mart, 4741 Giles Road in Bellevue. The ticket was good for seven draws and contained the winning Red ball numbers (6, 8) and White ball numbers (6, 8) from the March 3 drawing for $22,000.
Two hundred and twenty-eight Nebraska Lottery players have won the 2by2 top prize to date. Wright plans to use his winnings to purchase a new home.
The overall odds of winning any prize in 2by2, which is also offered in Kansas and North Dakota, are 1 in 3.59. The odds of winning the top prize are 1 in 105,625.
---
Published on 03/08/2016