$3,333 Mrs. Claus' Crossword Prize for Omaha Woman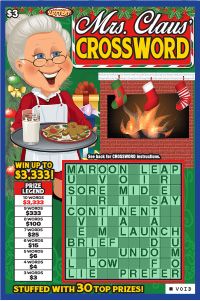 Chatia Swift of Omaha won $3,333 playing the $3 Scratch game Mrs. Claus' Crossword from the Nebraska Lottery.
Swift purchased her winning Mrs. Claus' Crossword ticket at All American Properties, 4219 North 60th Street in Omaha. Scratching the ticket, she revealed 10 complete words in the crossword puzzle for $3,333.
There are thirty $3,333 top prizes available in Mrs. Claus's Crossword. Swift is the thirteenth person to claim a top prize to date.
Mrs. Claus' Crossword is a $3 Scratch game that offers players the chance to win $936,333 in cash prizes from $3 to $3,333. The odds of winning the top prize in Mrs. Claus' Crossword are 1 in 16,000, while the overall odds of winning any prize are 1 in 3.38.
---
Published on 12/15/2015