Lincoln Man Wins $22,000 Playing 2by2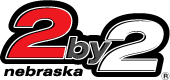 Larry Schneider of Lincoln won $22,000 playing the Nebraska Lottery's 2by2 Lotto game.
Schneider won his winning ticket as a prize from a previous 2by2 play. He received his ticket at U-Stop, 110 West Fletcher Avenue in Lincoln. The quick-pick ticket contained the winning Red ball numbers (4, 17) and White ball numbers (23, 24) for the $22,000 top prize.
Three hundred and sixty-three Nebraska Lottery players have won the 2by2 top prize to date.
2by2 is run by the Multi-State Lottery Association and was introduced in June 2002. Players in Kansas, Nebraska and North Dakota have the opportunity to win up to $22,000 Monday through Sunday by playing 2by2. The odds of winning the $22,000 2by2 top prize are 1 in 105,625, while the overall odds of winning any prize are 1 in 3.59.
---
Published on 12/10/2015