Mobile App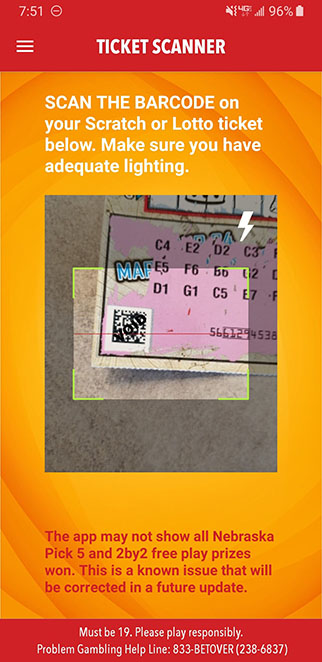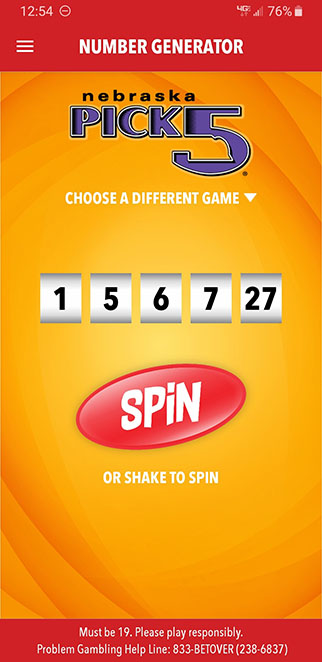 The official app of the Nebraska Lottery features:
NEW: Scan your tickets to check for prizes. Click here for details.
Up-to-the-minute winning numbers and current jackpot information
Interactive Scratch game feature
Set notifications for Lotto jackpots, new Scratch games, and MVP Club information
Select numbers for any Lotto game with the random number generator
Find the nearest Nebraska Lottery retailer based on location
Information on Nebraska Lottery beneficiaries
The app is available for iOS (iPhone, iPod Touch, iPad) and Android platforms. Click the links below to install the app on your device:
---
Ticket Scanning Tips
The Ticket Scanner in the Nebraska Lottery mobile app lets you check Scratch and Lotto tickets for prizes just like the Check-A-Ticket machines at retailers. Here are some tips for using the Ticket Scanner feature:
For Scratch tickets, completely remove the coating over the barcode on the front of the ticket. Any leftover coating may interfere with the scan.
Make sure you have adequate lighting. Depending on your device, you may be able to use the camera flash for additional light by clicking the lightning bolt icon.
Line up the center of the barcode in the scan window. Make sure the entire barcode is visible, otherwise the scanner may display an Invalid Barcode message.
If the barcode cannot be scanned, try scanning it again while moving the ticket closer or further away from your device.
Barcodes that are damaged or incomplete cannot be scanned. A lottery retailer may be able to manually validate a ticket with a damaged barcode, or you can send the ticket to the Prize Claim address listed on the ticket back. Click here for more information on claiming prizes.
The app may not show all Nebraska Pick 5 and 2by2 free play prizes. This is a known issue that will corrected in a future update. For example, if a winning ticket has multiple cash and free ticket prizes the app will report the cash prizes only. In this situation the scanner will never indicate the ticket is a non-winner, and the correct amount of free tickets will print when the ticket is redeemed.
Contact the Nebraska Lottery at lottery@nelottery.com or call 402-471-6100 if you need further assistance.