2022 NEBRASKAland Days
Come in and spin! Come in and win! No matter what part of North Platte you're in!
Spend $10, spin the wheel and you'll win a prize. Be sure to print and bring this event list with you because when you spend $10, you'll receive a FREE $2 Scratch ticket.
One free $2 Scratch ticket per event.
| | | |
| --- | --- | --- |
| 1. | Kwik Stop, 120 S. Jeffers St. | Wednesday, June 15, 11 a.m. - 6 p.m. |
| 2. | Casey's General Store, 2421 Rodeo Road | Wednesday, June 15, 11 a.m. - 6 p.m. |
| 3. | Kwik Stop, 1421 S. Dewey St. | Thursday, June 16, 11 a.m. - 6 p.m. |
| 4. | Northside Cenex, 1020 N. Jeffers St. | Thursday, June 16, 11 a.m. - 6 p.m. |
| 5. | Big Red Liquor, 1421 E. 4th St. | Friday, June 17, 11 a.m. - 6 p.m. |
| 6. | Fat Dogs North, 1313 S. Dewey St. | Friday, June 17, 11 a.m. - 6 p.m. |
| 7. | Kwik Stop, 702 E. 4h St. | Saturday, June 18, 9 a.m. - 6 p.m. |
| 8. | Gary's Super Foods, 1921 W. A St. | Saturday, June 18, 9 a.m. - 6 p.m. |
| 9. | Time Saver, 1220 S. Dewey St. | Monday, June 20, 11 a.m. - 6 p.m. |
| 10. | Casey's General Store, 1401 E. 4th St. | Tuesday, June 21, 11 a.m. - 6 p.m. |
| 11. | Casey's General Store, 520 Rodeo Road | Wednesday, June 22, 11 a.m. - 6 p.m. |
| 12. | City Discount Liquors, 821 N. Jeffers St. | Thursday, June 23, 11 a.m. - 6 p.m. |
| 13. | Smoker Friendly, 825 S. Jeffers St. | Friday, June 24 11 a.m. - 6 p.m. |
| 14. | Kwik Stop, 1421 S. Dewey St. | Saturday, June 25, 11 a.m. - 6 p.m. |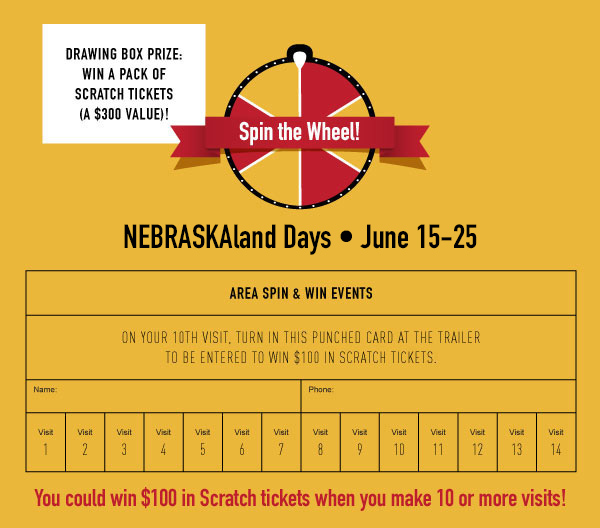 ---
Published on 06/07/2022